SMOOVE. IMPROOVE!
No Surprises Pricing on all packages. With our fixed-price packages, what you see is what you pay. Each package has a suite of options to completely customize your site.
Thoughtful consultation to understand your business needs and your brand, and to create a signature user experience. Smoove's design solutions are smart, stylish and on-target.
Custom-crafted design that's smart, clean and contemporary.
Smoove's Quality Promise means that it takes as long as it takes to make you happy with your site.
Smoove sites are responsive. So your site will look great on desktops, mobile phones and tablets.
Advanced cloud website hosting free for the first year.
SMOOVE DESIGN PRINCIPLES
Form follows function.
Business objectives should drive design. So we begin with learning from you about your business, your goals, your needs, your customers and your competition. Our goal is smart design: a custom-crafted process that captures your style and brand, and drives your business goals.
Less is more.
Like a great headline, we want to tell your story in the most original yet straightforward way we can. This means that we want to avoid design and verbal clutter, and let your visitors find their way to your core messages as quickly and easily as possible.
Content is king.
Customers and search engines love relevant content. Think of more information online as a great way to prequalify your customers and save on support enquiries, or to educate and enlighten your customers. Stand out from your competition as the real deal.
Branding is much more than a logo.
Smoove offers a full suite of integrated marketing and branding services. Even if your print collateral or your site is all we design, we always have your brand standards and strategy in mind. So your print materials, advertising and your website will all work together beautifully. If you're starting from scratch and need a brand identity, Smoove can do that too.
Have fun!
We make the process personal, intuitive, fun and rewarding.
Websites for Smart Business.
Surprise! There's an easy and affordable way to get online, and with no-surprises package pricing. You'll get a custom-crafted site that reflects and builds your brand. Smoove offers website design packages with lots of options to tailor your site, and extras you won't find anywhere else. If one of the packages isn't an exact fit, don't worry—we're happy to customize your package and provide you with a free quote. Compare packages.
ALL Smoove fixed-price website packages include: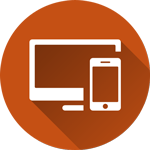 Business and design consultation
On-brand custom-crafted design
Initial search engine optimization
"Intuitive. Brilliant. Perfect!"
Smoove made sense of my content and vision for my company, and I am thrilled with the end result. It blows my competition right out of the water. Highly recommended!
—Marc, Owner
A Smoove Medium Site
A computer support company website with a human touch. Clean, bold and professional, not sterile and clinical. Flat design. Brand design and copywriting also by Smoove.
A Smoove Medium Site with CMS
A law firm with a professional yet approachable identity. Calming colours, subtle textures, and a contemporary flat design. Entire site is built on a Content Management System (CMS) including dynamic resources library. Content development and brand design also by Smoove.
"Exactly what we wanted, and beyond what we expected."
Smoove did a beautiful job of our branding and our site! We love our content manager and being able to make changes whenever we want. Every business should get Smooved.
—Vince, Partner